One company is getting tech lovers a little closer to this fantasy — but for educational purposes instead of superhero missions. London-based virtual reality startup Curiscope has created Virtuali-tee, a product involves a specially designed t-shirt and a VR headset. Through an app, users can explore a visualization of the body's organs as if they had the power to see things in X-ray vision.
The product is an interesting merge between augmented reality and fashion, but it is first and foremost meant as an educational tool to show the potential of using new technologies to make learning more interactive. By turning a simple T-shirt into a tool for learning, the product also offers new possibilities for transforming other mundane objects. The Virtuali-tee app contains information on anatomy with facts that match up to the visuals.
At first glance, it might just look like a t-shirt, but it's a whole lot more than that .View it through the app (IOS, Android, Mobile, Tablets, Mobile VR) to unlock a portal into the body and transform the tee into an awesome learning experience. Explore the anatomy in fully animated 3D that lets you move in and look around the body.
Users can also dive a bit deeper into various parts of the body, like the circulatory or urinary systems. In addition to a basic mobile app, Virtuali-Tee also has a VR experience that's just as interactive as its mobile app, and both use spacial awareness to let you get a more detailed view by moving your phone closer to the tee.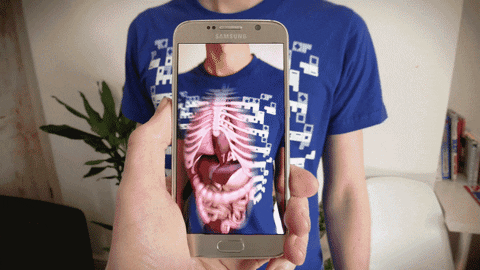 New to VR?
Check out our New to VR pledge levels and get yourself a Google Cardboard with the t-shirt. You'd be surprised by how accessible VR is!
But remember, you can use the Virtuali-Tee on a tablet or mobile device without a VR headset. It's just that bit more immersive with one.
It's framed as an educational tool, and the Kickstarter is seeking £70,000 (right around $100,000). You can get in on Virtuali-Tee for as little as £18 ($25), and the project has an estimated delivery of August 2016.
If you enjoyed this article, Get email updates (It's Free)